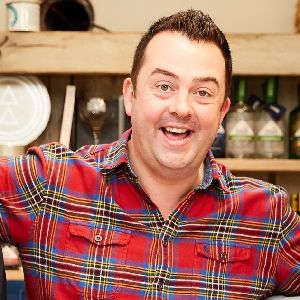 Tom Warner
"Life is too short for mediocre Gin."
The golden thread in Tom's life is food and drink, it's his passion and has been his career for two decades. From producing, sourcing, selling, creating, and consuming he has devoted his career to it and in 2012 launched an artisan distillery. Growing up on a farm, with a gregarious mother who taught home economics created the hard working, bonne vivant producer at the heart of Warner's Distillery. "There was no other option, farming is an entrepreneurial industry, so starting a business was in the blood and hosting people for home-made food and drink is my passion, the distillery allows me to share that passion with the world."
"Falls Farm has been in my family for generations and my dream was to set up a business that could make good use of our springs and abundance of natural ingredients. My wife Tina and I decided to diversify the family farm into gin distillation back in 2012 and, since then, our mission has changed from 'let's save the world from mediocre gin!" to now 'saving the world from mediocre drinks' with a vision to 'become the most nature positive drinks business in the world.'
Award-winning, top craft gin brand Warner's has quickly established itself as 'champion of 100% natural flavour' in the gin market and is now recognised as the UK's no.1 super-premium gin brand. The success behind its artisanal spirits lies in the brand's belief that "real tastes better" real ingredients, real process and no bullsh*t in sight, "it's the application of art, quality and science that combine to create magic". Each gin utilises the springs, hedgerows and botanicals of Falls Farm, located in Harrington, Northamptonshire.
Warner's was launched in 2012 by husband and wife Tom Warner and Tina Warner-Keogh. Both hailed from farming backgrounds: Tina from a family of potato farmers, who with her help went on to build the successful Keogh's crisp brand out of Ireland – now exported to numerous countries, and Tom the first-born son to a cattle farmer and his wife.
Following an education at Harper Adams Agricultural college, Tom's first professional role was a year's placement running a coffee buying operation in East Africa. Tom then took up a sabbatical role as Student Union President at his college, before taking up various commercial positions with the largest, privately owned fresh produce importer in the UK, dealing with farmers from all over the world.
With the dream of his family farm always in the back of his mind Tom decided to return to Falls Farm with one key aim: to diversify the farm, securing the future of the land, and build his own business. At first, Tom looked to distilling essential oils but his focus quickly turned to distilling spirits and, alongside his wife Tina – a former private equity director – he has specialised the crafting of Warner's bestselling gin.
Warner's now create award winning liquid across 3 categories (gin, 0% and rum) increasing their self-sufficiency and working with nature as they grow. They were the first craft distillery to launch a range of 100% natural non-alcoholic spirits and the team continues to push the boundaries of the spirits industry, forging new variants and entirely new categories, creating award-winning favourites and world firsts like their Rhubarb Gin, where one third of every bottle is real rhubarb juice.
Their inventive nature and passion for innovation has seen the company skyrocket in recent years – achieving an annual turnover of north of £10m and they have won several accolades.
Follow the Warner's story at:
Online: www.warnersdistillery.com
Twitter: https://twitter.com/WarnersGin
Instagram: https://www.instagram.com/WarnersGin
Facebook: https://www.facebook.com/WarnersGin