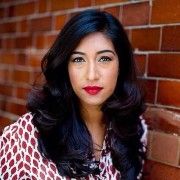 Tina Daheley
Tina Daheley is one of the BBC's fastest rising stars and a versatile broadcaster whose TV and radio work stretches across news and current affairs, sport and the arts, appealing to a wide range of very diverse audiences. As well as delivering the news to one in four young people in the UK for nearly a decade on two successive BBC RADIO 1 BREAKFAST Shows, Tina also presents BREAKFAST NEWS and the NEWS AT SIX and TEN on BBC ONE and the BAFTA-winning VICTORIA DERBYSHIRE SHOW on BBC TWO. She presents WOMAN'S HOUR on RADIO 4 and also manages to fit in hosting THE CULTURAL FRONTLINE, her own weekly global arts programme on the BBC World Service.
Tina is passionate about making news, current affairs and the arts accessible to everyone and is especially skilled at hosting audience debates.
Outside of her more serious broadcast work she recently made a cameo appearance in A League of Gentlemen's Christmas special. Tina has a first-class honours degree in Computer Science and a Masters in Broadcast Journalism.