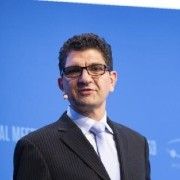 Stephen Hahn-Griffiths
Stephen is a purveyor of insight related to reputation measurement and management. At The RepTrak Company he is a champion of the organization's proprietary reputation system, and a pioneer in developing new ways of assessing brand expression, purpose, ESG, media sentiment, and CEO reputation. He has been instrumental in developing and launching the organization's SaaS-based technology platform – aptly named RepTrak for Communications (RT4C).
Stephen's realm of expertise includes brand strategy, brand purpose, integrated marketing, corporate communications, and social responsibility. Prior to joining The RepTrak Company, he spent his formative years in the agency world – having held Chief Strategy Officer roles at Leo Burnett, Mullen, Doner, and Saatchi & Saatchi. His work in integrated marketing and reputation management has been critically acclaimed – including EFFIEs, Clios, Cannes Lions, and the Jay Chiat Award for Strategic Excellence.
He is often cited as a reputation expert -- and has been quoted in leading media properties such as Harvard Business Review, Forbes, WSJ, CNBC, NPR, Associated Press, NY Times, Adage, PR Week, and FT. His recent speaking engagements include the Conference Board, ANA, Bloomberg, Sustainable Brands Conference, ESOMAR, and 4A's Strategy Fest. In his spare time, Stephen is a guest lecturer at marketing, corporate communications, and entrepreneurial business schools including USC, NYU, Michigan State, Louisiana – Lafayette, Babson, and Northeastern.
Stephen has also contributed to published books including Reputation Management, Brand Physics, Authentic Marketing, Chutzpah and Chutzpah, Brand Activism, and Activate Brand Purpose. His academic credentials include an MBA in Management from Stern, New York University.