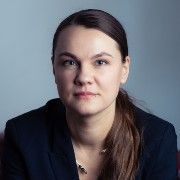 Karen Burns
Karen is co-founder and CEO of Fyma, an Estonian-based startup whose AI turns any CCTV camera into a smart sensor to capture real time GDPR compliant data and turn it into actionable insights.
With 770 million CCTV cameras installed around the world and set to exceed 1 billion this year, Karen is on a mission to help businesses better understand the behaviours of people and objects in a built environment – be it a shopping centre, a high street or a sporting complex – with the goal of increasing efficiencies and to enhance the profitability of the space.
As co-founder and CEO, Karen is responsible for the company's day to day operations, as well as the development of its growing team and the management of the company's international client base.
Karen holds a Bachelor's degree in Film Studies from Queen Mary University, London, a Master's in Film and Video from University College London and a Graduate Diploma in Law from London's BPP University. Prior to founding Fyma, Karen held a variety of business development director roles and has also worked in film production, working on Hollywood blockbusters including the Star Wars and Fast and the Furious franchises.
Karen is passionate about increasing inclusion of women in STEM and management positions. She is also an active member of two grassroot charity projects supporting families in need and in her spare time enjoys gardening and playing the tenor saxophone.