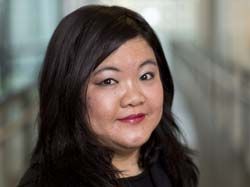 Jenniffer Gearheart-Tang
NED, angel investor and innovator
Jenniffer is an NED, angel investor and innovator with over 25 years of international corporate experience working with Shell International, Korn/Ferry and the WPP group.
She is the Founder of !nnov8 Ltd, a creative think-tank that brings startup agility to corporate innovation, and global scalability to startups and scale ups. She has coached over 100 start-up founders to help them conceptualise products, develop strategies, collaborate with and connect to corporations, and to scale their businesses internationally.
Jenniffer is a co-founder of Makeke.shop, a retail tech app funded by Innovate UK. She is also the Director of CIONET working with the top 50 UK CIOs from leading organisations to define ways to innovate at scale across sectors.
In her previous role as Global Head of Innovation & Senior Adviser at Shell, Jenniffer led the transformation of Shell's employer branding and marketing recruitment. She spearheaded the creation and global scale up of a new digital platform Shell Ideas360, which engages millennials to develop game-changing ideas to tackle the Energy-Water-Food Stress Nexus. It attracted over 62 million views from 140 countries and received over 6,000 innovative ideas from over 1000 universities. The program had won multiple industry awards for innovation and was Shell's Recruitment Flagship program for 5 years running.
Jenniffer's areas of expertise are in Corporate Innovation, Digital Product Scaling & Strategy, Global Business & Marketing Strategy and Senior Executive Recruitment.