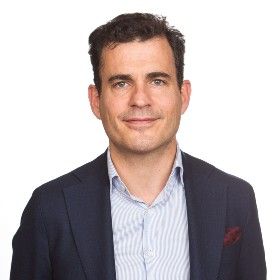 Guillaume Chesneau
Guillaume Chesneau is Managing Director for the UK and Republic of Ireland (ROI) at Nespresso – a certified B Corp™. He is responsible for leading the brand's operations in both markets, with a focus on driving business growth, while maintaining the highest sustainability standards.
A firm believer in using business as a force for good, Guillaume played an important role in the launch of Podback, the UK's first nationwide coffee capsule recycling scheme – co-founded by Nespresso in April 2021. He is also a board member of Podback, and oversees progress in the UK & ROI towards meeting Nespresso's global carbon neutrality and net zero commitments.
Prior to starting his current role in 2018, Guillaume led Nespresso's Swedish operations, developing quality trade distribution, expanding the Nespresso boutique network and successfully leading the launch of the Vertuo system in the Swedish market.
Guillaume joined Nespresso in 2008 as Business Development Manager in Australia, before moving to New Zealand in 2011 as Country Manager for New Zealand and the Pacific Islands.