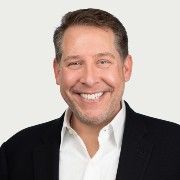 Greg Petro
CEO and Founder
,
First Insight
Greg is the founder and CEO of First Insight, a company which helps leading retailers and brands with their most challenging task — accurately forecasting market trends, consumer
attitudes, and product preferences. Petro founded First Insight in 2007, after nearly two decades in executive roles overseeing supply chains, operations, and merchandising for some of the world's leading retailers. Dismayed by the waste associated with seat-of-the-pants buying decisions, for example, he saw an opportunity to bring order to a flawed process that is often backward- looking and technologically behind the times.
The son of pre-World War II refugee immigrants from Czechoslovakia, he learned from his parents' experiences the value of instinct and insight, and knowing when to take a risk. When he was in his late 30's, married with two young children (now three!), and after a near-death experience, Petro went back to school, earning a Science and Finance masters from the Katz Graduate School at The University of Pittsburgh. Inspired by the experience and his love of math, he set to work creating First Insight's proprietary modeling software, a core element in the company's holistic approach to business forecasting.

Early on, Greg realized there was a better way for companies to make decisions with high degrees of variability or uncertainty. He devoted himself to revolutionizing the decision-making process within business.

First Insight empowers companies to incorporate predictive analytics along with VoC (Voice of the Customer) data into the design, pricing, planning and marketing of products and service offerings thereby improving Customer, Brand, Product and Employee experiences within organizations.

The list of the firm's 200+ global customers include many global marquee brands, including Kohl's, Marks & Spencer, Under Armour, Constellation Brands, Dick's Sporting Goods, and home goods merchant At Home just to name a few.

His expertise and dedication have been recognized in publications, on TV and at events that include the Wall Street Journal, Fortune, Forbes, the Financial Times, CNBC, Bloomberg and NRF's Big Show. Recognition of his accomplishments include being awarded EY Entrepreneur of the Year, NRF's 25 Most Influential People in Retail along with several other awards.

Greg is an international keynote speaker and has written for Forbes for over 6 years where he shares his perspectives weekly to the Investment Community on the retail industry providing insight and solutions for driving success in today's environment. Greg enters his eighth year as a frequent guest lecturer at Columbia Graduate School of Business (CGSB) as well as other universities across the US.