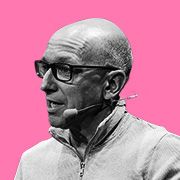 Fraser Longden
Wickes
,
Chief Operating Officer
Fraser joined the Wickes Group in September 2014. During his time at the
Wickes Group, Fraser has covered a number of roles including HR Director and
Chief Commercial Officer and since 2017 he has been the Chief Operating
Officer.
Fraser joined the Wickes Group after 15 years with Kingfisher. His last roles at
Kingfisher included sitting on the main Executive Board for B&Q as Human
Resources Director and Executive Vice President HR at B&Q China. Alongside this
role in China, Fraser was also the General Manager of the B&Q China Design
Centre business.
Fraser is passionate about everyone being able to perform and progress while
being their authentic self at work. As a result he is the Executive Sponsor for the
'RAACE' (Raising Awareness and Action on Culture and Ethnicity) network and
the 'Let's do it with Pride' Network (supporting our LGBT+ Colleagues). Fraser
was recently included in the 2021 EMpower Advocates Executive Role Models list
which celebrates 50 senior leaders who are not from ethnic minority background
themselves but are championing and advocating for their ethnic minority
colleagues.