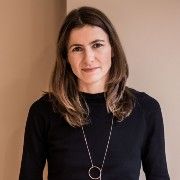 Carmel Allen
Carmel has a long and well-respected history in the retail and publishing sectors. She began her career at the FT on the How to Spend It pages in 1992, then moved to Conde Nast, where she worked at Vogue and Tatler until she was lured to New York to set up NYLON magazine. Returning to the UK, Carmel held senior editorial positions at InStyle and Livingetc, before moving into retail in 2008 for Heal's and The Conran Shop and LINLEY.
As the CEO of Tate Commerce, Carmel leads all commercial activity across publishing, retail, product development, licensing (images and brand) and ecommerce. Carmel won 2015 Retailer of the Year at the H&G Design Awards and the 2014 Marie Claire Prix d'Excellence for Kiss it Better, the charity campaign she founded in 2004 with Estée Lauder Companies and Great Ormond Street Hospital.
She's passionate about design education and opportunity and launched the annual Snowdon Summer School in 2016 offering free, residential training in fine furniture making are marquetry to nine students each year ensuring the transfer of skills and craftsmanship.