Karina Sudenyte, Co-Founder and Chief of Brand, Get Wonky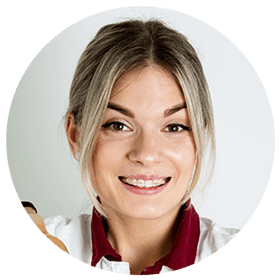 What are three interesting facts about Get Wonky?
1. We exist to inspire the world to reimagine their perception of waste.
2. We help farmers who can't shift their wonky produce to supermarkets
3. Every bottle of Get Wonky saves between 3-48 fruits.
What's the hardest lesson you've learnt running your business?
We started with just £800 capital, which was extremely difficult. Financial stability is so important to support the efficiency and scaling-up process of the business. Secondly, selecting the right talent. The right employee enhances the culture and ultimately pays you back.
What do you look for in an employee?
An entrepreneurial mind, focus and motivation. They need to be passionate about sustainable living, have an open-minded, can-do attitude.
When people come to you for help, what do they usually want help with?
A lot of entrepreneurs starting out in the food and beverage industry ask for marketing advice, or tips on how to make the right connections. Our Director, Maciek, is the best person to talk to about cost cutting and how to motivate yourself during difficult times.
What are you most looking forward to for the company?
Our brand vision is to inspire the world to reimagine their perception of waste. We are saving more fruit from going to waste and I am excited about educating the next generation about food waste and food poverty.