06 Jul 2020
Live Lowdown with Barney Wragg, CEO, Karakuri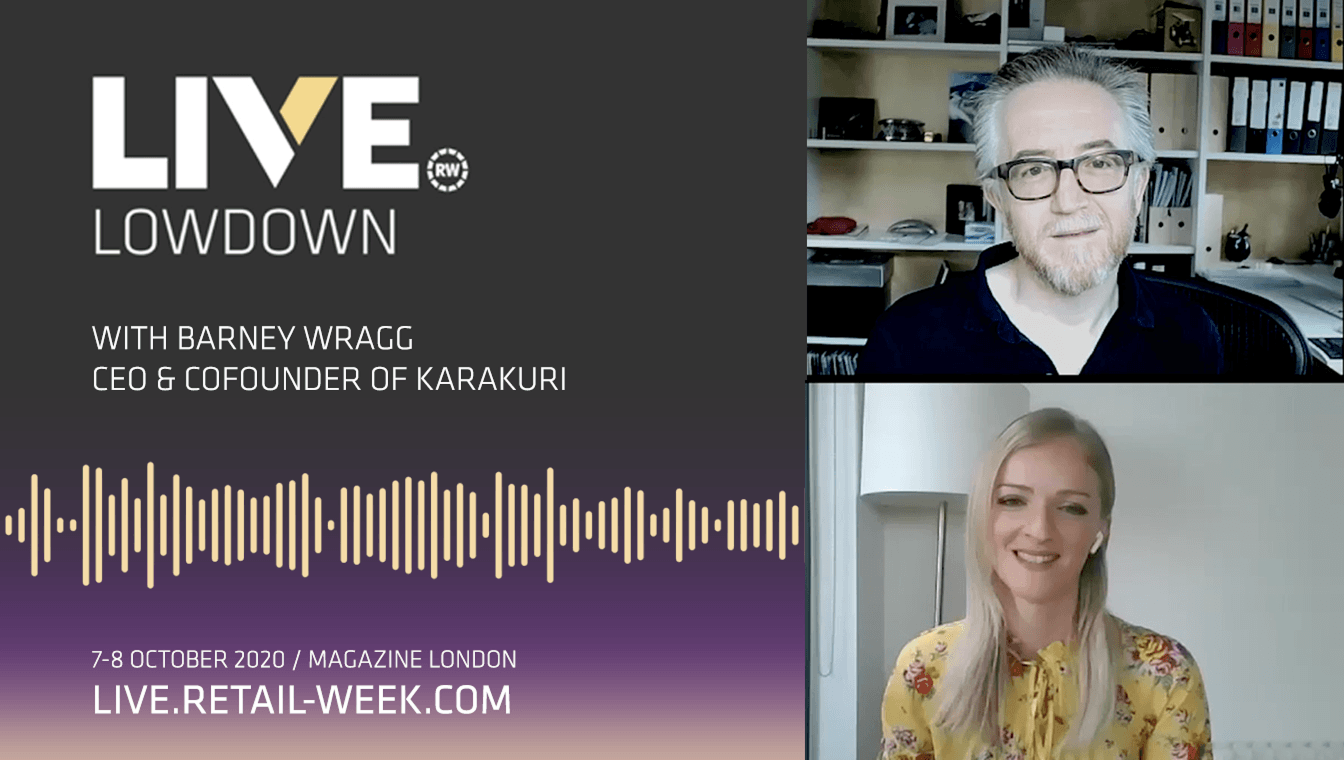 In this interview, we chat with Barney Wragg, CEO, Karakuri about the present and future role of robotics in retail and hospitality and the intersection of this with hyper-personalization.
---
TRANSCRIPT
Rebecca Morrison
Hi, Barney, lovely to be talking to you today. Can you first of all introduce yourself, please?
Barney Wragg
Yeah, sure. So I'm Barney Wragg. I'm the founder and CEO of Karakuri. Karakuri is a robotic food preparation company, we specialise in producing robots and automation systems for the restaurant and food services industry.
Rebecca Morrison
Brilliant. Thank you. And it's fab to have a chat with you today about loads of things I want to ask you about. And so let's kind of start zoomed out. So as COVID-19 has become the kind of medium term norm, what do you see the long term implications of it being on in the in the sectors that you guys work in?
Barney Wragg
Yeah, I mean, firstly, I think it's very early days to really be talking about specifics of the long term. I mean, we're I think we're only just coming to grips with the last 12 weeks of lock down, what's that going to mean for the industry. What's that gonna mean for business in the next 12 weeks, let alone the next five years. But I mean, there are some key things coming through that are really, really key. So it does look like social distancing is going to be an important part of our lifestyle for the foreseeable future. And that's not just on the on the customer side of our industry. So not just people wanting to buy food, go into a restaurant, go into a retail environment, pick food that's ready to eat and go. But also on the employer side. So a lot of the spaces that we work with, a lot of the companies that we work with have optimised their kitchen spaces and they're serving spaces to be as tiny as possible to get the maximum footfall and efficiency per square foot. And they're now looking at an environment where that might not work anymore. If they could have two metres or even a metre between employees. How can they make a safe environment for their employees as well as their customers. So we're seeing lots of questions being raised around that, lots of thinking around: what does a new restaurant or, or a takeaway or canteen look like in the future? And that's coupled with, I think, a general sense that people are heightened about the hygiene aspects of their foods. Their hypersensitive around the exposure of their food to contamination. So all of these things are factors that come into play right now in the industry around all the pressure that's also in play about you know, we've had most restaurants closed for for three months, which the economic challenges coming in as a result of that, with rent and raids, staff retention, all that kind of coming into a very dynamic period, I think for the restaurant catering industry.
Rebecca Morrison
So because of the kind of restaurant closures bar closures etc during this time, have you as a business had to pivot to kind of other verticals?
Barney Wragg
No, not really. We've been very lucky that, essentially, the first product that we announced that we're bringing to market is an automation solution for cutting services. So effectively for serving pre prepared foods. And actually, we've seen that just the increased amount of interest in demand for our product. It's early for us, we don't have the product ready. We're not mass selling it yet. But we've seen a lot of customers come through everything from hotels, or traditionally did a buffet breakfast, or through retail environments where you might have had a salad bar or some kind of takeaway. Through to quick service restaurants, we might just have walked in and grabbed a salad for lunch. So all of that, that spectrum, that every everybody in that spectrum is trying to understand the new reality. And actually, it's generated a lot of interest for the for the types of products we do.
Rebecca Morrison
Oh, I kind of listen to the future. And I know that it's hard to kind of predict where we're going to be in five years time. But I'm assuming you've had kind of, you are seeing an acceleration of kind of people looking to robotics and more than interested in that technology because of the pandemic. So what kind of role do you think robotics will play in the future in the retail industry? We're seeing it obviously, you know, Ocado back you don't they, so they're using their warehouses presumably.
Barney Wragg
I can't say too much about that but they're interested in it. They have said publicly that they're, they plan to use some of our technology in different ways.
Rebecca Morrison
So obviously it is being used in backend situations and warehouses and stuff. Can we expect to see it more on shop floors in the future, do you think?
Barney Wragg
Yeah, I think so. I mean, I think to tell you that a 10,000 foot view, the general view is, I think one of the things that's going to live with us for a very long time, after COVID is the drive to customer acceptance of e commerce. So whether that's buying household products, groceries, clothing, or food, I think people have, there's been an enormous shift and an enormous acceptance in, I can pre order something or can order it and get it through that. That's going to really you can see the ramifications of that through the food industry, both on the grocery side, and on the on the sort of restaurant side. And what that does is it starts to allow people to really look at where else can technology be used. So I think, in general, what's going to happen is a broader acceleration of technologies of which robotics will be in power.
And I think that there's lots of, you know, the time is just right for robotics, you can see a very, very good example of that where, you know, not very long ago, the school of thought was that you had to have manual pick and place for everything in an e commerce warehouse environment. Kind of really champion that on a grocery side in their use of robotics and now they're getting really significant advantages for their customers in terms of cost per pick, cost per item, efficiency, inventory management, all those kind of things which are absolutely key. When you come to dealing with fresh food be it either in a grocery space or in a restaurant space, that same level of advantage can be derived from using automation. And it doesn't really matter whether you use that automation in the background in a warehouse environment and a mise en place environment, in a restaurant, or whether it's out front of house doing service, there'll be different automation solutions for the different challenges that come up. There's lots of advantages for the restaurant owners, the business owners in terms of efficiency, quality of service, reliability, all of those kinds of things. And the fact that, you know, actually just retaining and finding staff has been a huge problem in the food services industry. And there's also a lot of advantages to the customer. So a lot of confidence in the product, you can be certain that it's not going to be contaminated, how it's been put forward.
But also you can start to get a lot of other advantages. You know, we talk a lot about customization. So you're able to dial up exactly what you want in the quantities that you want, and the machine will potion it directly for you. And also, in a world of e commerce, people are becoming very familiar with I want, I want to order this. That means that what they really also need or like to have is a very predictable period of time when something's going to be ready. So we all know the experience, if you order on Deliveroo says it's going to be about 20 minutes, and it actually takes 40, then there's a delay. That that's not, that's not a great customer experience. When you use automation, you can really get into, okay, I know when this orders come in and know what ingredients are available, I know exactly how long it's going to take. So you can give a very deterministic response to when something's going to be able to be collected for a rider to pickup, or if you're walking into a store to collect something that can be made ready for you just in time.
Rebecca Morrison
So there's a lot of potential and a lot of assistance that robotics can do in terms of allowing retailers to become more efficient and safer, I suppose as well. What about hyper-personalization? Where's the opportunity? Where do you see robotics playing a role in the future of hyper-personalization?
Barney Wragg
We think this is going to be a huge trend in the food industry. We think if you look at the adoption of smart devices that we wear with biometrics already on them. Things like Apple Watch are, you know, the Android watches, or Fitbit, we're all becoming increasingly conscious of our activity level, what's happening without, you know, without what we're doing physically, what our physical reaction is, our body's reaction is to that. We think it's logical that is going to extend into our diet. So we can already see people who are very particular about their diet, what they eat, when they eat, how they things that they may have particular issues with allergens, or they may have particular diets that they're trying to follow for health or medical benefits. And we think that that's going to get more and more important to consumers, and that they're going to be wearing biometrics, it's going to advise them more and more about what they should be eating or what would be the best thing for them to eat to hit their particular nutritional goals. And we see where robotics is kind of working in sync with these devices so that there's a two way communication. So when you walk into a retail environment or restaurant environment, your watch can be, can be profiling, what that restaurant does, understanding what's available, and effectively knowing what your preferences are, and maybe giving you a recommendation of "go in this restaurant, they sell these type of items. You typically like a Caesar salad. I can put this together for you". And you can do that very, very specifically in a way that exactly matches the nutritional targets that you have for that day. And where that is possible with robotics, and where it's been difficult with humans is that robot's are very, very good at accurately doing the same thing over and over again. It doesn't matter how rushed it is, it doesn't matter how busy it is. They don't tend to just get a scoop of you know, we all know the thing we used to have a favourite dinner lady in school because she would give you an extra scoop of chips on mash potatoes. Robots just don't do that. If you tell it to dispense 120 grams, it will dispense 120 grams. And it's also been difficult for a normal restaurant to offer that service because when it gets busy, that's when the accuracy gets out. So people are rushing to do things, you don't know what's going through. Well, because robots know it takes so many seconds, dispense 220 grams of that, 80 grams of this, or 5 grams of that, you can build that delivery schedule. So I can literally be scheduling when I want to pick my meal up, know what's going to be in it, and have that specificity in there. Which is, that's just a very difficult thing to do, for people to do, particularly in a busy and rushed environment.
Rebecca Morrison
So it sounds like, since I always find the kind of the whole robotic/human interaction piece interesting and what the optimal situation would be. What do you think, do you think a hybrid model where you have robotics doing a certain function that they're great at, but also aided by humans, giving the human touch and as you mentioned, the example of the dinner lady, how do you see that interaction playing out?
Barney Wragg
Yeah, I mean, I think we very much think that there's a hybrid world. We think of our robots as being augmentation or assistance to humans. And the things that humans just do really quickly, really, really well. And when it's, you know, for example, dealing with a customer understanding the customer's requirements, talking to them, helping solve problems. That's something that humans do, intuitively extremely well. And machines find very difficult to do. And I think there's things where machines are very good at doing very accurate fixed repetitive tasks. But anything that's a little bit different, the creative bit, that's where machines are not strong. So we do think there's a hybrid environment. We think, in the types of retail that were involved around foods, whenever you talk to anybody in the restaurant trade, even the people that work in restaurants, one of their biggest complaints is they don't get enough time with customers. They don't get enough time to provide the service that they think they would like to or that they think their customers would want. And so we think the shift will be that machines will be used to take away some of the more repetitive, boring, straightforward tasks that require a lot of labour, require a lot of time, but take away from the available labour to do customer service tasks. We think customer service, human interaction will get more important and you'll get a better one as a customer, because members of staff will have more time to deal with you and the more programmatic straightforward tasks can be done by assisting robots.
Rebecca Morrison 13:42
That's really interesting. I am looking forward to seeing more of these on the shop floor. I think that will be, when do you envisage that happening?
Barney Wragg
I think, we're going to start deploying things later this year and into next year. I think it's very early stages, it's a very new set of technologies. I think within five years, robots will be very commonplace in commercial kitchens and in retail environments. But you know, I don't think this is something that you're going to see by next spring, every supermarket in the UK doing this. I think you'll start to see pockets of it, people experiment with it. And I think you'll, see an acceleration over the next five years.
Rebecca Morrison
It's really interesting. And yeah, I can't wait to see them. And just to finish off, what has been your biggest learning from this period and what you've seen in the market.
Barney Wragg
I think the biggest learning for me has been just how amazing our team and how flexible they can be when when we really pushed. So you know, we do something that's really complicated. It's kind of really at the cutting edge of where things are in technology and science. And robotics is very collaborative. It's the coming together of mechanical engineering, electronics, software. It's a multidisciplinary, multi-skilled kind of practice to make things work. And at the beginning of the outbreak, we were really concerned as a company that we were gonna have to send everybody home, we're a new business, would we be able to make progress? We're we going to have to furlough people? How is this all gonna work? And we really focused on "Okay, let's try and think about how as a team can work remotely", and you know, I think we've made as good progress if not better progress than than we previously were doing. It's made us gel more as a team think more about our communication really push and, you know, frankly, I've just been staggered by the commitment of some of our employees. I've taken a big chunk of a robot home to a one bedroom flat in central London. We've had people working on the hardware, prototyping things, getting parts sent from their suppliers directly to their, to their sort of home bedrooms. We've had them on video links with people who went to stay back with their parents, who are working on software or electronics. All doing this remotely, all coming together, pushing forwards. We've on boarded new team members. I mean, frankly, I think for me as a manager, it's been humbling, and really incredible to see how the team has adapted. And I think there's a huge amount for us to learn about how flexible people can be, and how, you know, sometimes it takes a crisis to make you think about these things. And I think for me, the big learning has been, you know, the flexibility capability, just incredible determination of our team is something that, you know, has been the biggest takeaway from me from this whole period.
Rebecca Morrison
And it sounds like there's a real spirit of collaboration and innovation from within the company so that is fab. Thank you so much for your time today, Barney, I really, really love chatting to you.