Top 8 session picks from our team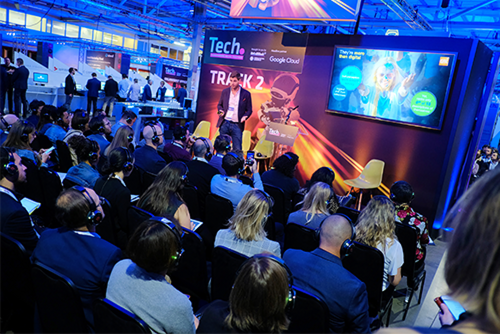 With content that spans marketing, supply chain, data, the customer, AI & machine learning, partnerships, and the war for tech talent, hear from the businesses winning the digital race, such as Amazon, Farfetch, Stitch Fix, Sainsbury's, IKEA and many more.
Here are the top session picks from our team:
Chris Brook-Carter, SVP, Retail Week, World Retail Congress and Tech.
IMAGINE THE IMPOSSIBLE AND THEN MAKE IT HAPPEN
Following the unveiling of Microsoft's first European flagship store I am very excited to hear from Shelley Bransten, their VP of Global Retail & Consumer Goods. While many traditional retailers are looking to reduce their investment in bricks and mortar the tech giant is using innovation to carve out space for the in-store experience.
---
Rebecca Morrison, Content Manager, Tech.
FARFETCH KEYNOTE WITH SARA WOOD
Farfetch is a leading innovator in both the fashion and commerce spaces, but also in how technology platforms can build an ecosystem that allows many companies to benefit. I'm really looking forward to Sara Wood's keynote because as EVP of Product, Sara is responsible for all product, design, data science, and analytics work across global markets, so her insights in terms of Tech.'s biggest themes- data, the customer, and ecosystems- will be absolutely invaluable.
---
Poppie Mickleburgh, Event Director, Tech.
PANEL: LEADERSHIP IN DIGITAL COMMERCE
I'm most looking forward to this panel given the great mix of digital leaders from across 4 different business areas. The 4 leaders Grant will be interviewing have a wealth of experience across CPG, retail, marketplaces and technology so it is set to provide some tangible takeaways on leading in the new digital world. It will be a great opportunity to get insight from some of the industry's leading minds.
---
Jennifer Creevy, Content Director, Retail Week
EVERYWHERE COMMERCE: VOICE INTERFACES, AUTONOMOUS WAREHOUSES, SELF-DRIVING DELIVERY
My top pick is the keynote from the CTO of Dutch grocer and technology firm Picnic, Daniel Gebler. Picnic has been an interesting business to watch. It has completely revolutionised the Dutch grocery sector with its unique offer and used technology to build a sustainable business which resonates with customers. For a start-up to disrupt the traditional grocers is no mean feat. It will be fascinating to hear what the next generation of commerce now looks like, combining IoT, AI, Drones and autonomous vehicles.
---
George MacDonald, Executive Editor, Retail Week
PANEL: SURVIVING ON THE HIGH STREET WITH RETAIL INTELLIGENCE
Everyone in retail wants vibrant high streets, but all too often they are under pressure. I'm looking forward to this session for some good ideas on how technology can be used effectively to help reinvigorate town centres.
---
Luke Tugby, Deputy Editor, Retail Week
SAINSBURY'S KEYNOTE WITH CLODAGH MORIARTY
Sainsbury's has adapted as well as anyone in UK retail to the need for digital transformation. The grocer's chief digital officer Clodagh Moriarty has been a focal point of that change, from the integration of Argos, through to one-hour ChopChop deliveries and its first ever cashless store. But how has Sainsbury's achieved that dramatic shift – and what comes next for the supermarket giant?
---
Grace Bowden, Reporter, Retail Week
STITCH FIX AND THE FUTURE OF COMMERCE
My top session will be hearing from US personal styling etailer Stitch Fix's chief algorithms officer Brad Klingenberg. Many retailers talk a good game about the potential of AI to disrupt the retail sector, but few are walking the walk as well as Stitch Fix, which has 2.9 million customers in the US and a 100-strong team of data scientists who are working on enhancing existing algorithms and developing new ones to improve the customer experience. The personal styling platform has collected over 85 data points on its customers within 60 seconds of them signing up which it uses to cater its offer to them. At a time when many retailers are drowning in data and unsure of how best to harness, Klingenberg will be able to provide a valuable perspective on how to balance man and machine in retail innovation.
---
Hugh Radojev, Reporter, Retail Week
EXCLUSIVE INSIGHTS: WHAT I LEARNT AS THE HEAD OF PRICING AT AMAZON IN APPLYING GAME THEORY TO PRICE TRANSPARENCY
If the headline alone doesn't whet your appetite, then nothing will. The ever-burgeoning dominance of Amazon in the ecommerce space has clearly been built of the back of an industry leading pricing strategy. On the flipside, in the UK, especially over the last Christmas trading period, a race to the bottom in terms of discounting left many retailers feeling the pinch heading into the New Year. This session will give industry leading insight into how to stay ahead of the competition in terms of pricing, while also delving into new theories and topics emerging at the cutting edge of retailing.
---
View all sessions and times on the Agenda.