30 Jul 2019
Tech. Cast: VR and AR are going to change the world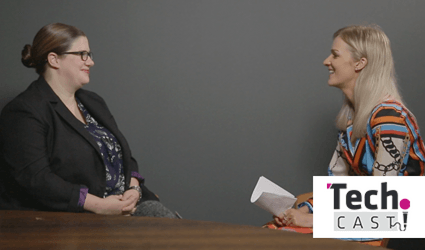 We sat down with Facebook's Beth Horn - Industry Head, Retail & Restaurants to discuss how Instagrams partnerships with Retailers, how VR & AR are the way forward, and the innovations that retailers can glean from attending Tech. on 2-3 October.
---
TRANSCRIPT:
Rebecca Morrison 0:00
So Beth, great to have you here with us today. Do you want to just introduce yourself?
Beth Horn 0:05
Sure. I'm Beth Horn. I'm head of industry for retail, at Facebook here in London.
Rebecca Morrison 2:35
Zalando recently said, Instagram will be our biggest competitor. Can you expand on that a little bit?
Beth Horn 2:44
Well, I certainly can't speak for them. I do know that from a Facebook perspective. And from an Instagram perspective, we're really excited about the work that we do with our retail partners. And with how we can help drive innovation and growth for the businesses that we support, including Zalando. We are in early days for some of the innovations that are coming out on Instagram as a platform. But as with everything that we build, we're going to focus on our community first. Looking for ways to transact and find out about items that people see on Instagram has been a request to the community since we started. And we're going to continue to listen to community and to listen to our partners as we build that up further.
Rebecca Morrison 3:23
You have previously said that VR and AR are going to fundamentally change the world. So collapse distance, provide opportunity, and let us paint on a new creative canvas. Can you kind of go into a bit more depth about what you meant by that?
Beth Horn 3:37
Sure. I think it's just, it's a lot of white space right now, which is a really exciting place to be in. How we define what this next platform is going to look like. I think it's a really rich creative canvas for all of us within the industry to play with. So when I imagine how helpful it can be to design the living room of a home that I'm moving into, I'm moving in a week and a half, and to be able to take a sofa and put it in the room and make sure it's going to fit and does it work with that light? And does it work with this paint on the wall? Or do I need a different colour? It's incredibly helpful. And it helps people imagine how retailers goods can come to life within their life. I think about the ways that it can come to life for fashion, where right now I think a lot of the iterations, it kind of looks like I'm wearing a sticker of a dress over my clothes. But then I look at what people like Warby Parker have done where they have a virtual try on within their app where I wear glasses every day of my life. And if I use that AR experience, it looks like I'm wearing those glasses. It's incredibly useful and it also feels kind of magical. So I think we'll have a really great creative flowering in the next five to ten years as all the tools for VR and AR get into more people's hands. And it's just going to be a really fun place for us to play. So I would encourage retailers to think broadly and creatively about what it can mean for them.
Rebecca Morrison 5:03
I mean, we've seen that recently as well with ASOS recently kind of, you know, trialling out AR as well. Sephora as well, which is super interesting. So yeah, I think you're right, I think we're going to see more of that. Just really exciting. Isn't it? Yeah.
Beth Horn 5:17
It should be, this is shaping this should be enjoyable. And I think it is.

Rebecca Morrison 0:09
Absolutely. Why is Tech. such a landmark event?
Beth Horn 0:16
I think it's a really exciting moment when people across the sector, across retail, who are really driving innovation for the industry all have a chance to come together, talk about what's been happening and dream forward of what we want the industry to look like. And with so much that's going on with all of the pressures on all of our time, I think it's a really amazing couple of days to come together as a community and make those plans into the future.
Rebecca Morrison 0:42
And why specifically should retailers be attending Tech.?
Beth Horn 0:46
I think because your your mind's going to get stretched, your perspectives are going to change. The community that you're going to connect to there's just a really diverse and exciting one. And those are always good places to play.
Rebecca Morrison 0:59
Absolutely. Beth, what are you most excited about, at Tech.?
Beth Horn 1:04
Talking to people and connecting and hearing what's on people's minds. I get a good amount of that through my work at Facebook, but certainly connecting to the larger community. And I'm excited to hear about what people are thinking about with voice, which is, I think, a whole new frontier for us as retailers. I'm excited to learn. I'm someone who likes to be in a constant state of learning and to be curious, and this is never a dull industry, that is for sure. So I'm very excited to learn along with all of our colleagues.
Rebecca Morrison 1:36
And what will people get at Tech., that they won't get elsewhere?
Beth Horn 1:40
I think the perspective and the lens of technology to enable retail is a really special one. And it's a really, really important one. The way that the industry is evolving, I think retailers, legacy enterprise retailers, who have been around for decades, or in many cases over a century, were struggling to keep up with that pace. And I have a huge amount of empathy for all of our partners and clients that walk through that change. So I think when we can take some inspiration from all of the innovation that's happening across the sector, and really harness that, to take it back to all of the organisations that we serve, to help to accelerate the change that we see within each of the individual brands and retailers and shops that we work with. I think that's a really good energising moment to break forward. And that lens of technology, enabling it is really, really critical, because that's absolutely the direction the world's going.
Rebecca Morrison 5:19
Absolutely. And just to wrap up Beth, what does Tech. with a capital T mean? Obviously our event, what does, can you describe that in kind of one word, what does it mean for you in one word?
Beth Horn 5:31
Innovation.
Rebecca Morrison 5:32
Great, good answer. All right, Beth thank you so much. Lovely to chat to you. Cheers.